History
Keselowski brought dreams to reality in 2012 by winning the first NASCAR Sprint Cup Series Championship in Penske Racing history in just his third full season with the team. The championship gave Roger Penske the only title that was missing on his resume in his nearly 30 years of competing in NASCAR, and it firmly established Keselowski as one of NASCAR's true superstars.
The 2012 season saw Keselowski produce career best results on the way to his first NASCAR Sprint Cup Series title and his second championship for Penske Racing. The Rochester Hills, Michigan native recorded a career high five race victories including regular season wins at Bristol, Talladega and Kentucky and two victories during the Chase for the Sprint Cup at Chicago and Dover in the Miller Lite machine. Keselowski also set career bests with 13 top-five and 23 top-10 finishes as well as 735 laps led.
The 2013 campaign brought some adversity for Brad on the Cup side. After winning a combined eight races in the previous two seasons, he went through the first 30 races without a victory. Finally, with a stunning win at Charlotte Motor Speedway, he broke his cold spell, giving the 2 Crew some momentum going into 2014.
They took that victory and started the 2014 season with a bang—it took just three races for Brad to post his first win. He went to Victory Lane later at Kentucky, then at Loudon. Next, to cap the regular season, he stormed to a dominant win at Richmond, making him the No. 1 seed for the Chase. He took that top spot and claimed a win at Chicago. His back was against the wall later in the postseason at Talladega, where he needed a win to continue his quest for the title, and he came up with a miraculous final lap win. While he ultimately fell short of the championship, he posted a season-high six wins, as well as career best marks with five poles, 17 top-fives and 1,540 laps led.
After a fantastic 2014 campaign, Brad and crew chief Paul Wolfe both returned, and for the first time in years, the team exprienced minimal turnover on its pit crew, leaving the No. 2 Miller Lite/Alliance Truck Parts/Wurth team as a favorite to win their second cup championship.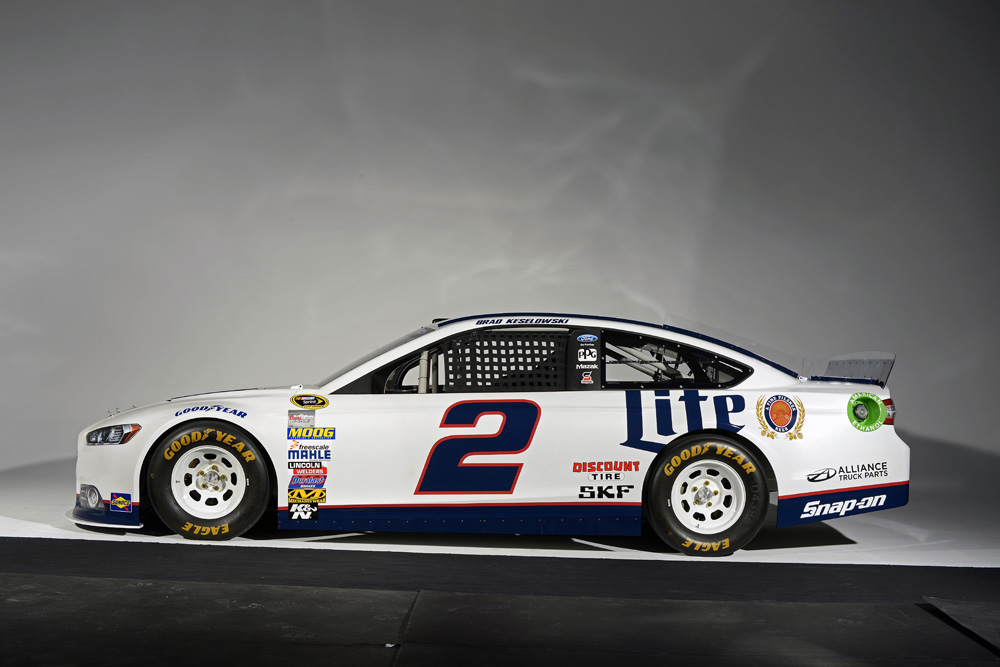 Sprint Cup Crew
Crew Chief
Paul Wolfe
Race Engineer
Brian Wilson
Vehicle Dynamics
Jonathan Hassler
Car Chief
Jerry Kelley
Mechanic
Nick Hensley
Mechanic
Scott Eldridge
Mechanic
Tim Whitaker
Shocks
Chris Hill
Engine Tuner
Mark Nickels
Tire Specialist
Jim Davis
Front Tire Changer
Ryan Flores
Front Tire Carrier
Jeremy Ogles
Jackman
Braxton Brannon
Rear Tire Changer
Travis Johnson
Rear Tire Carrier
Tyler Mitchell
Gas Man
Nick Hensley
Truck Driver
Mike Williams
Truck Driver
Jason Taggart
Spotter
Joey Meier