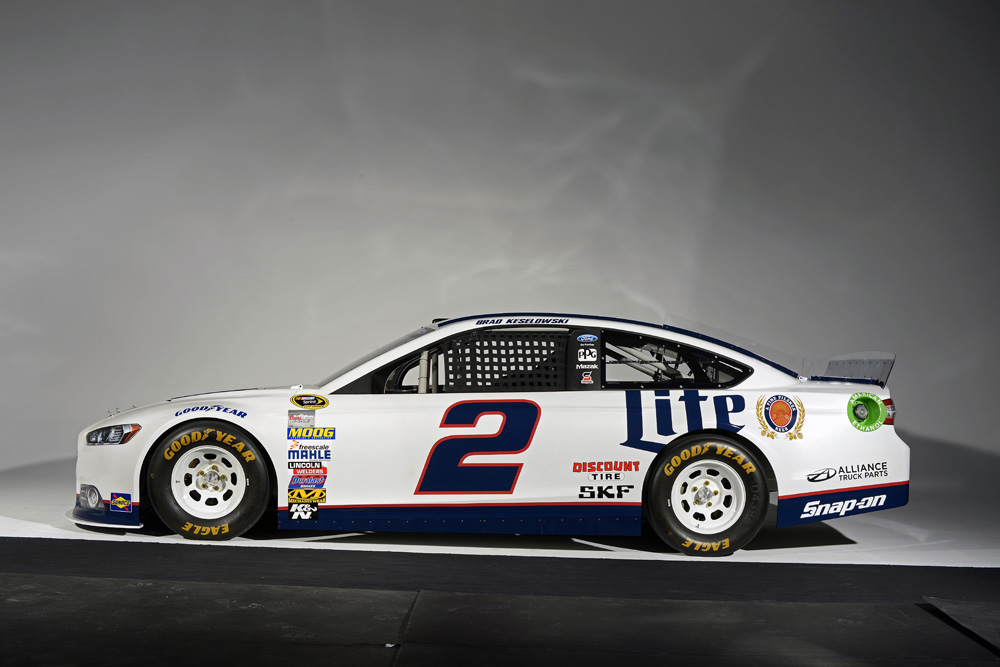 Dimensions
Race Weight: 3,320 lbs minimum
Wheelbase: 109 ½" to 110 ½"
Overall Length: 196 inches
Overall Width: 71 inches
Overall Height: 51.3" +/- ¼" (highest regulated hard point)
Ground Clearance: 3 ½" static, 1/16" or less on track
Track Width: 71" to 71 ¼"
Fuel Capacity: As much as we can get through tech! Normally 18.5 gallons.
Chassis/Body Chassis
Chassis: Steel tube frame rails & roll cage
Body: Ford Fusion. Carbon fiber hood and deck lid, fiber glass nose and bumper, Lexan windows, steel sheet metal all other areas.
Designer: Penske Racing
Spoiler: 3/16" aluminum set at 70 degrees
Steering: Power steering box, pitman, centerlink and idler arm system.
Seating: Carbon fiber composite seat
Oil and Fuel Lines: Dry sump oil system, stainless AN-8 fuel lines.
Suspension
Front: Independent, unequal length A-Arms
Rear: Solid rear axle w/ trailing arms
Shock Absorbers: Penske Shocks, hydraulic, single adjustable
2013 Engine Specifications
Type: Roush Yates V8
Displacement: 358 Cubic Inches
Power: 850ish horsepower
Induction: Multiport fuel injection
Bore: 4.185 Inches
Stroke: 3.250 Inches
Transmission: 4-Speed Manual
Clutch: 3-Disc
Compression Ratio: 12.0:1
Engine Design: Roush Yates
Fuel: Sunoco Racing Gasoline
Fuel Pump: Roush Yates
Exhaust: Penske Racing
A Finish to Remember
Fuel management played a crucial role for Brad and the No. 2 in his victory at the 2012 AAA 400.