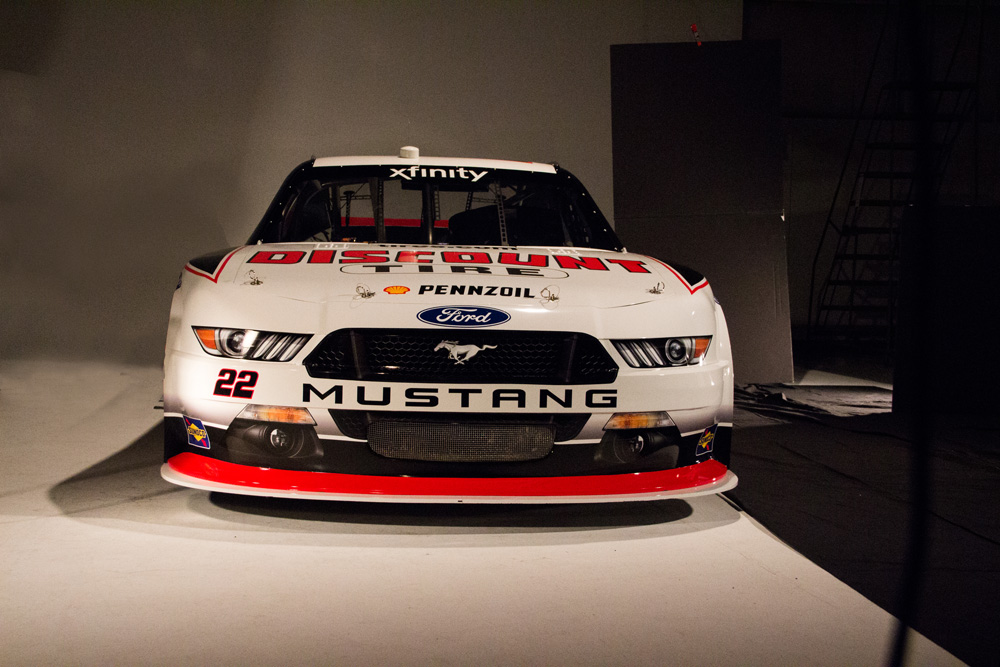 Dimensions
Race Weight: 3470 min
Wheelbase: 109.5" to 110.5"
Overall Length: 197.5"
Overall Width: 74"
Overall Height: 52.96" (highest regulated hard point)
Ground Clearance: 3" static, ~0" on track when all goes right
Track Width: 71.25"
Fuel Capacity: 18.5 gallons
Chassis/Body
Chassis: Steel tube frame rails & roll cage
Body: Ford Mustang. Kevlar nose and bumper, Lexan windows, steel sheet metal all other areas.
Designer: Penske Racing
Spoiler: 3/16" aluminum set at 70 degrees
Steering: Power steering box, pitman, centerlink and idler arm system.
Seating: Carbon fiber composite seat with insert formed to Brad
Oil and Fuel Lines: Dry sump oil system, stainless AN-8 fuel lines.
Suspension
Front: Independent, unequal length A-Arms
Rear: Solid rear axle w/ trailing arms
Shock Absorbers: Penske Shocks, hydraulic, single adjustable
2013 Engine Specifications
Type: Roush Yates V8
Displacement: 358 cubic inches
Power: 685 horsepower
Induction: Normally Aspirated with 390 Cubic Feet Per Minute Carburetor
Bore: 4.195 inches
Stroke: 3.25 inches
Transmission: 4 speed manual
Clutch: Quarter Master 3 disc
Compression Ratio: 12:1
Engine Design: Roush Yates
Fuel: Sunoco Racing Gasoline
Fuel Pump: Waterman
Exhaust: Penske Racing
A WIN AT INDY
One of Brad's highlights driving the No. 22 came on July 28, 2012, when he won the first Nationwide race at The Brickyard. Coincidentally, the first place finish also earned owner Roger Penske his 100th NASCAR victory.