Brad Keselowski scored a second-place finish in the Lakes Region 200 Saturday afternoon at New Hampshire Motor Speedway. In three series starts this season, Keselowski has two wins and a second-place effort for a sizzling average finish of 1.5.  He also claimed his tenth top-10 finish in 10 NXS races at the 1.058-mile New England speedway.
Keselowski kicked off his afternoon by winning the pole position for the race, his fifth pole in 10 races at New Hampshire and his second of the 2018 season. He claimed the 22nd pole position in 252 career NXS starts.
Keselowski was penalized for being late to the drivers meeting and forced to start at the rear of the 39-car field.  He wasted no time in storming his way through the pack during Stage 1, climbing into the top-10 by lap 15 and grabbing fifth-place by lap 33. He finished fifth in the opening 45-lap segment of the race. Excellent pit work by the Menards crew during the stage caution on lap 49 gave Keselowski the lead when race went green on lap 53.
Stage 2 was dominated by Keselowski. He led all but five laps in the segment despite three cautions slowing the pace and setting up close-quarters racing on the restarts. He was pleased with his Ford Mustang and made a scheduled four-tire stop during the stage caution. A mix of strategies by his competitors shuffled him back to 12th position when the race went green to begin Stage 3on lap 98.
Once again Keselowski went to work slicing his way through traffic. By lap 110 he was back inside the top-five. As the long green flag run wore on, Keselowski continued his march toward the front.  He waged a fierce side-by-side battle with Christopher Bell for the lead before grabbing the lead on lap 146.
On lap 164, Keselowski made his final pit stop under green. Crew chief Brian Wilson opted for right-side tires. He had just cycled into the lead when the sixth caution came out on lap 168. Keselowski held the lead until the seventh caution slowed the pace on lap 179.  The restart on lap 182 featured intense three-wide racing between Bell, Keselowski and Ryan Preece. Bell grabbed the lead just ahead of Keselowski. Try as he might over the final 18 laps, Keselowski couldn't make another run at Bell because his car was just too loose, forcing him to settle for a second-place finish.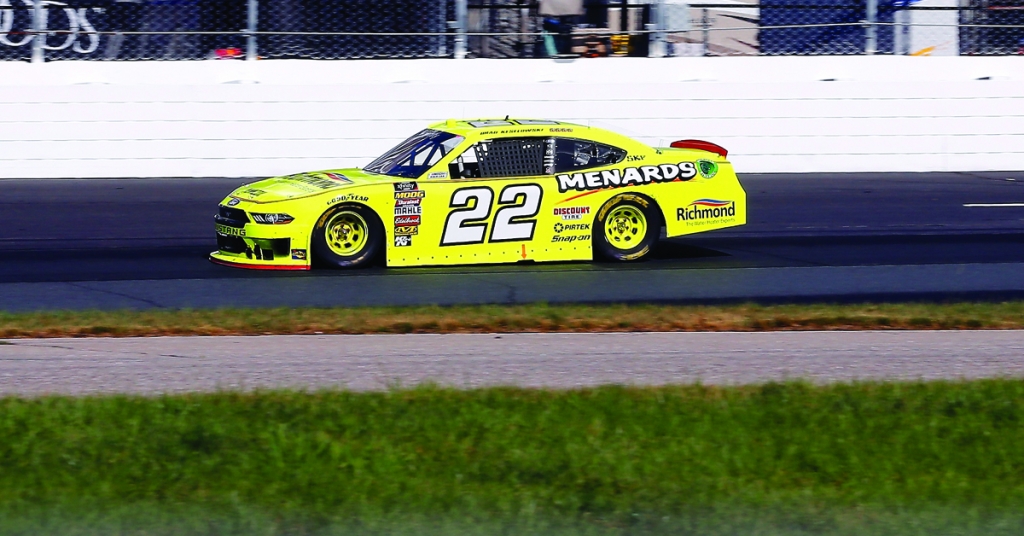 "It was a good race.  Christopher (Bell) drove really well.  It seemed like our Menards/Richmond Ford Mustang and the 20 car (Bell) were probably the class of the field. We knew it was probably going to come down to us at the end and he did a good job.  They did a good job and made the right call to put four tires on and kind of got us there. I was just way too loose at the end of the race.  I didn't have any left-rear tire and it just wouldn't keep the back under it. All-in-all it was a good day.  You kind of get mad about second and kind of don't.  You try to respect the fact that it was a great car today and a great effort for our team, but know that the potential is there for more."
LAKES REGION 200
JULY 21, 2018 . NEW HAMPSHIRE MOTOR SPEEDWAY
CAR: NO. 22 MENARDS/RICHMOND FORD MUSTANG