Editor's note: The following article first appeared on NASCAR.com.
After I won at Kansas back in May—my 30th career Cup victory—a few different reporters asked me what reaching that milestone meant, and whether or not I felt it was a threshold for eventually making it into the NASCAR Hall of Fame. The win was a big deal to me, to be sure, and while those questions were definitely premature in my mind, they also really got me thinking.
What does make someone worthy of being in the Hall of Fame?
I've had this debate with some members of the Hall of Fame voting panel over the years—a collection of some 50-odd people that includes Hall of Fame board members, NASCAR members, former champions and some media members, too. It's always an interesting conversation for a number of reasons.
First, there's no consensus among the people who vote about what makes somebody a Hall of Famer, which I think is kind of funny. Second, every year there are one or two surprises who get in that shock you, and one or two people where you scratch your head and wonder, "Wow. How are they not in?" It almost baffles you.
Today, I want to bring that conversation to you. I'm going to share my own criteria for what makes someone a Hall of Famer, and then open the conversation to the entire NASCAR fan community, too.
RARE AND POPULAR
Some amazing representatives of our sport were inducted in the 2019 Hall of Fame class: Jeff Gordon, Jack Roush, Roger Penske, Davey Allison and Alan Kulwicki. And while without question, every one of those people deserves a spot in the Hall, they're also a great segue to my first point.
I don't think that five people should be entered into the Hall every year.
When it was first created about a decade ago, it made sense for the first few classes to have so many members. Now it probably doesn't. So I'd actually like to see the number of new additions to the Hall of Fame get scaled back to maybe two or three new members each year so that it remains something special.
My second top-level criteria is that I don't think all the members of the Hall of Fame should be drivers, but they should be famous. It's called the Hall of Fame for a reason.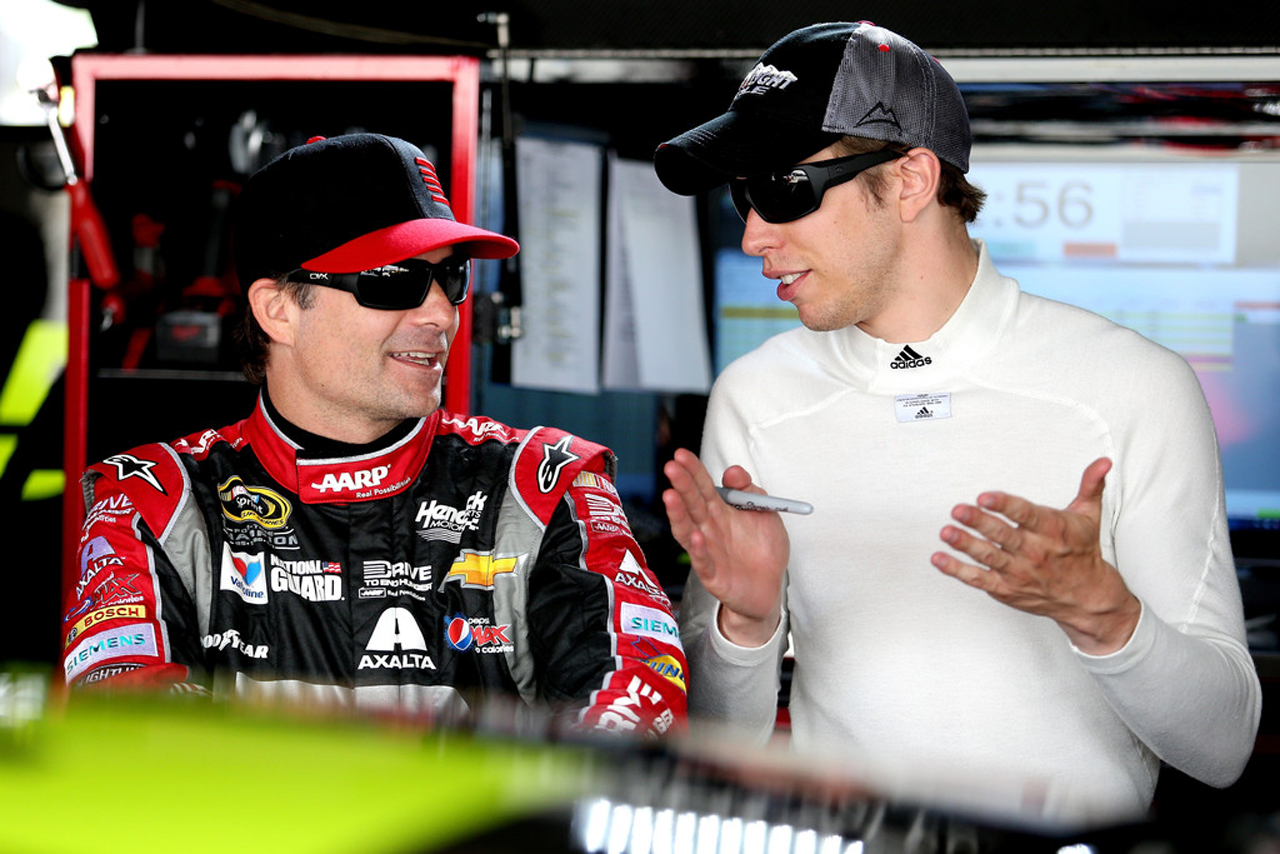 There are some people who made very significant contributions to the sport, but also who were never in the limelight. Whether that's by choice or not, that kind of nixes their eligibility for being a Hall of Famer. Part of being in the Hall of Fame is the connection you build with fans. If you made it a point to stay out of the limelight, you never really built that connection, and that should be held against you. This sport is here for the fans, and the way you build those relationships and use them to help people however you can—to entertain them, to connect with them, those things all really matter.
Don't misunderstand me: there are people who did a lot for the sport who weren't on center stage in the same way, and they deserve to be honored. But that's what NASCAR's Landmark Award—given to people who made landmark achievements in the sport outside the spotlight—is for. The Hall of Fame should be something different.
Lastly, I think that there should be some basic standards of character, too. And if you're a person who goes on in your post-driving career and wins the Nobel Prize or has some other remarkable achievements, that should probably factor into your eligibility in a big way, without a doubt.
QUALIFICATIONS FOR A DRIVER
Naturally, because I'm a driver, people are going to ask my perspective for what makes a Hall of Fame driver. Truthfully, that's probably where I have the most credibility.
First and foremost, you have to consider Cup race wins. Before we had the playoffs, and the Chase, and all these recent things we've installed, I would have said that championships should go before wins. Now I don't feel that way. Now I feel like wins are a bigger deal than championships. So it completely flips my line of thinking. I'm sure there's some people out there that don't feel that way.
In fact, somebody asked me who the top 50 greatest drivers in NASCAR were, and I ranked Dale Earnhardt somewhere around No. 7 or 8. A bunch of people got mad at me about it. (I'm sure it's about to happen again now, too.) "He's got seven championships," they said. "Only two other people have that. That should put him at least in the top three."
I just don't view it that way. As a driver, in the wins column, No. 8.
That's a bit of a controversial opinion, because obviously he's got a mystique to him that people value. But I feel like race wins should come before everything else, and that's why I've got him where I've got him.
After wins, you have to consider the number of championships a driver has, and then third, the number of major victories. In NASCAR, we have about four or five indisputable majors and winning those races is important: the Daytona 500, Indianapolis, the Coca-Cola 600, the Darlington Southern 500. I put the Bristol Night Race up there, too. Winning any of those races is a really significant win as well.
Finally, I think that drivers can do things off the track that increase their Hall of Fame attractiveness. The top thing there—and this gets back to the point about being famous—is building your relationship with the fans. Again, that should be really important. Bill Elliot won NASCAR's Most Popular Driver, 16 times. That's got to count for something in the Hall of Fame, right? Same thing goes for Dale Jr. He didn't win any championships, but he was a Hall of Fame driver in my mind simply because of his popularity, and what he meant to the fans.
Then of course, there's contributions you make after you're a race car driver. Take guys like Benny Parsons or Darrell Waltrip, who both transitioned from their driving career to a broadcasting career, and in doing so, were beloved by the fans for a long time. That's got to count for something.
SMOKEY TIME
From the standpoint of drivers in the Hall of Fame, I think NASCAR's done a pretty good job so far. Still, there are other people, as I mentioned at the start of this, who aren't in the Hall of Fame, but should be. For the last few years, I've felt that way about Roger Penske, and I feel similarly about someone like Joe Gibbs.
If I had to pick one person who absolutely should be in the Hall of Fame and not only isn't, but has never even been nominated, it would be Smokey Yunick.
In the 1960s, Smokey Yunick was basically like Elon Musk. He was an innovator—not just in NASCAR, but in a wide range of scientific endeavors, experiments, sort of a crazy scientist but in a good way. He created the first vehicle to go 80 to 100 miles on a gallon of gas, and this was in the 1970s. He created all kinds of inventions that are used today in the automotive landscape and beyond.
He also loved racing. Racing was partially what pushed him to create some of these inventions.It also made him the guy you wanted to drive for because you knew, without a doubt, he would have one of the best cars. All the elite drivers came to him. He was famous, and not just in stock racing circles. He built cars for the Indianapolis 500. He built cars for the Big Three, test cars, prototype cars.
In his day, he was a superstar.
He also had a very tumultuous relationship with NASCAR. He pushed the limits of legalities a lot of times, and NASCAR frowned upon that and was very harsh to him. In return, he told them what he thought about that in a not-so-nice way, and more than once walked away from the sport. In the end, they broke up in not-so-favorable terms.
But his impact on the sport was undeniable, and still felt to this day. He was a legend. I, for one, would like to see him get his due in the Hall.
THE DEBATE BEGINS
So those are my thoughts on what makes a Hall of Famer. What do you think? What are your criteria? Who should be in the Hall of Fame but isn't? Who's driving today that should be one day?
I'd like to know what you think. Share your ideas and opinions with me on social media, at @keselowski on Twitter, @BradKeselowski on Facebook and @BradKeselowski on Instagram.