Brad Keselowski overcame a brush with the wall and a late-race incident to score a fifth-place finish in the Ford EcoBoost 400 Sunday night at Homestead-Miami Speedway. Keselowski finished the 2018 season with his 12th top-five finish placed eighth in the MENCS driver standings, 11 points behind fifth-place Aric Almirola.
Keselowski started fourth in the 267-lap event but had his hands full with an ill-handling Discount Tire Ford Fusion.  He was tight in the center and loose of the corners during Stage 1, scoring a ninth-place finish when the segment ended on lap 80. During the stage caution, Paul Wolfe called his driver to pit road on lap 83 for four tires and an air pressure adjustment. Keselowski restarted fifth when the race went green on lap 86.
The No. 2 Ford Fusion was still a handful for Keselowski during Stage 2, but he managed to run inside the top-10. He was very loose on both corner entry and exit. On lap 154, he scraped against the outside wall in Turn 3 while running ninth.  Keselowski recovered and was credited with a 13th-place finish when the stage concluded on lap 160. He pitted during the stage caution for four tires and adjustments plus damage repair and restarted 18th when the race went green on lap 166.
During Stage 3, Keselowski and Wolfe fought their way back to score a solid finish. He started off the final segment loose in and loose off but was tight in the middle of the corners but steadily worked his way up in the running order. Keselowski was running in 10th position when he pitted for four tires under green on lap 229. He was battling for 10th position when he was involved in an incident that collected Daniele Suarez and brought out the fifth and final caution of the race on lap 248. Good pit work moved Keselowski up to seventh position for the restart on lap 252 and passed Matt Kenseth in the closing laps to finish the season with a top-five finish.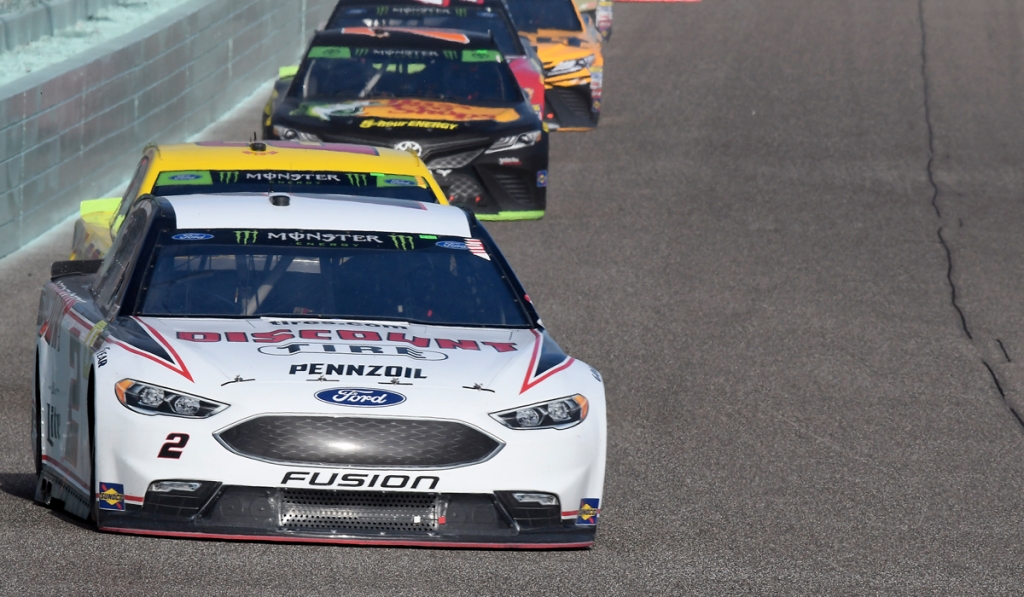 "I want to thank everyone on the Discount Tire team for their hard work this season. I really wanted to finish the season with one more win but we came up just a little bit short. These guys never gave up. We were able to get a top-five and that's cool. Congratulations to Joey Logano and everyone on the No. 22 team. Winning the championship is so special, and I'm happy for all of those guys."
FORD ECOBOOST 400
NOVEMBER 18, 2017 . HOMESTEAD-MIAMI SPEEDWAY
CAR: NO. 2 MILLER LITE FORD FUSION