Nothing could stop Brad Keselowski and his Autotrader Ford Mustang from getting to Victory Lane on Sunday in Atlanta.
Just 24 hours after having to miss part of a practice session due to flu-like symptoms, Brad endured 500 wild miles at Atlanta Motor Speedway to win the Monster Energy NASCAR Cup Series Folds of Honor QuikTrip 500 on Sunday afternoon.
The win was a special one for Brad in many ways, as he took sole possession of the all-time lead for wins among drivers for Team Penske with 60, passing Mark Donohue, one of the patriarchs of the Penske Racing program.
Additionally, Brad became the first to win a MENCS race in the new Ford Mustang, and the first winner under the new Cup Series aero package, which debuted at Atlanta on Sunday. Add in virtually locking himself into Cup playoff position just two races into the season, and it was a heck of a day for BK and the 2 Crew.
"It's certainly a really big day for us," Brad told the media after the race. "One that I'll reflect on for a long time. All wins are special, there are no wins that don't mean something. But some just mean more. This one means more for many reasons."
To think, BK almost didn't make it out to race at all. On Friday night, Brad and his wife Paige both came down with a bug that Brad said "floored" both of them. But with the help of Paige's "Mom Power" and the staff at the Atlanta Motor Speedway Care Center, Brad was able to get back into good enough shape to get in the car Sunday.
"I wouldn't have made this race yesterday…I just wasn't in very good shape. I lost five-and-a-half/six pounds in less than 10 hours and I was going the wrong way quick. Thankfully it all turned around late yesterday afternoon, and I appreciate the help of those in the care center to make it possible," Brad said. "They pumped me with a couple IVs and got me as good as I could be before the race."
Finished my 2nd IV and feeling ready to run the distance today @amsupdates

Feeling really good about our car.

— Brad Keselowski (@keselowski) February 24, 2019
Brad told FOX Sports before the race, that he was at about 80 percent health, but fortunately for him, his car was at 100 percent, and that made his job a whole lot easier, even if not all the breaks went the way of the 2 Crew all day.
Despite a difficult qualifying session on Friday that put them P19 on the starting grid, the AutoTrader Ford Mustang was fast from the outset of the race. BK picked off several spots in the early going, and sat just outside the Top 10, running 11th at the end of Stage 1.
BK continued to move up the board in Stage 2 and had climbed into the Top 5 when he made a scheduled green-flag pit stop for tires and fuel on Lap 126. Unfortunately, when the jack broke in the middle of that pit stop it forced the No. 2 car to linger on pit road, losing valuable track position in the process. He cycled back through still on the lead lap but lost more than 10 positions and it was all he could do to get back to P12 by the end of Stage 2.
He resumed cutting through the field during Stage 3, driving all the way up to P3 and Brad was outpacing his teammate Ryan Blaney, who was the race leader at the time, when he took the 2 back down pit road on Lap 270. Some debris on the grill of the No. 2 car had the engine overheating, so this stop, which was to be Brad's last of the day, allowed the 2 Crew to clean the grill as well as give the Deuce four fresh tires and fuel.
A crazy sequence of events followed that put Brad in just the right position to take the lead.
BK was concerned when, despite the work of his crew to clear the debris from his grill, his gauges didn't drop back into normal range. The AutoTrader Ford was facing possible engine failure. Fortunately, four laps after Brad's stop, a caution came out. This caution also fell prior to green flag pit stops cycling through, so while BK was a lap down, he was the first car in that position, making him the lucky dog.
The stroke of luck also allowed him to check back down pit road under caution to get fresh tires as well as have his team take a look at the grill to remove any further debris. He returned to the race in P3 with a chance to win despite all that had gone wrong all day.
"Whenever we have a fast car, it's funny how those things kind of disappear," Brad said. "Early in the race, we were kind of stuck in that 10th place range and we started to make adjustments and drove up to fifth. Then we had the issue there on pit road with the jack. Then we started to climb our way back forward again. I felt like we were getting in position there, with about 40 or 50 to go. I think we got up to third and then we got some kind of debris on the grill, and got really really hot. Thankfully the engine stood up to that, but we had to pit to clear that off and we lost a lap in the cycle and got the lucky dog. Every one of those kind of waves of emotion kind of plays in to how you feel physically."
Just a few laps after the final green flag of the afternoon, Brad passed his teammate Joey Logano to take the lead for the first time all day. For a while it looked like he was going to run away with the win, building a lead of more than 2.5 seconds on second place Martin Truex Jr. But as the laps ticked down, Brad's car started to fade while the No. 19 machine of Truex got stronger. With three laps to go, Truex was suddenly at BK's bumper, pushing to take the lead and steal the win. But Brad had one last idea that worked just well enough to hold off the 19 car.
"I saw him coming and with three to go I thought "Uh-oh, I don't know if I'm going to be able to hold him off," Brad recalled. "I'd gotten really really tight off of Turn 2 and almost hit the wall. I was pushing as hard as I could and I was kind of running out of ideas to be honest. I took one swipe at the bottom lane in 1 and 2 and it looked like it maybe got Martin a little tight. I got just enough distance on him. Another probably two or three laps and I don't know if I'd have been able to hold him off."
But Brad's bold move gave him just enough space and time to hold off Truex and cross the start/finish line two car-lengths (.218 seconds) ahead of Truex for his first win of the 2019 season, in race number two.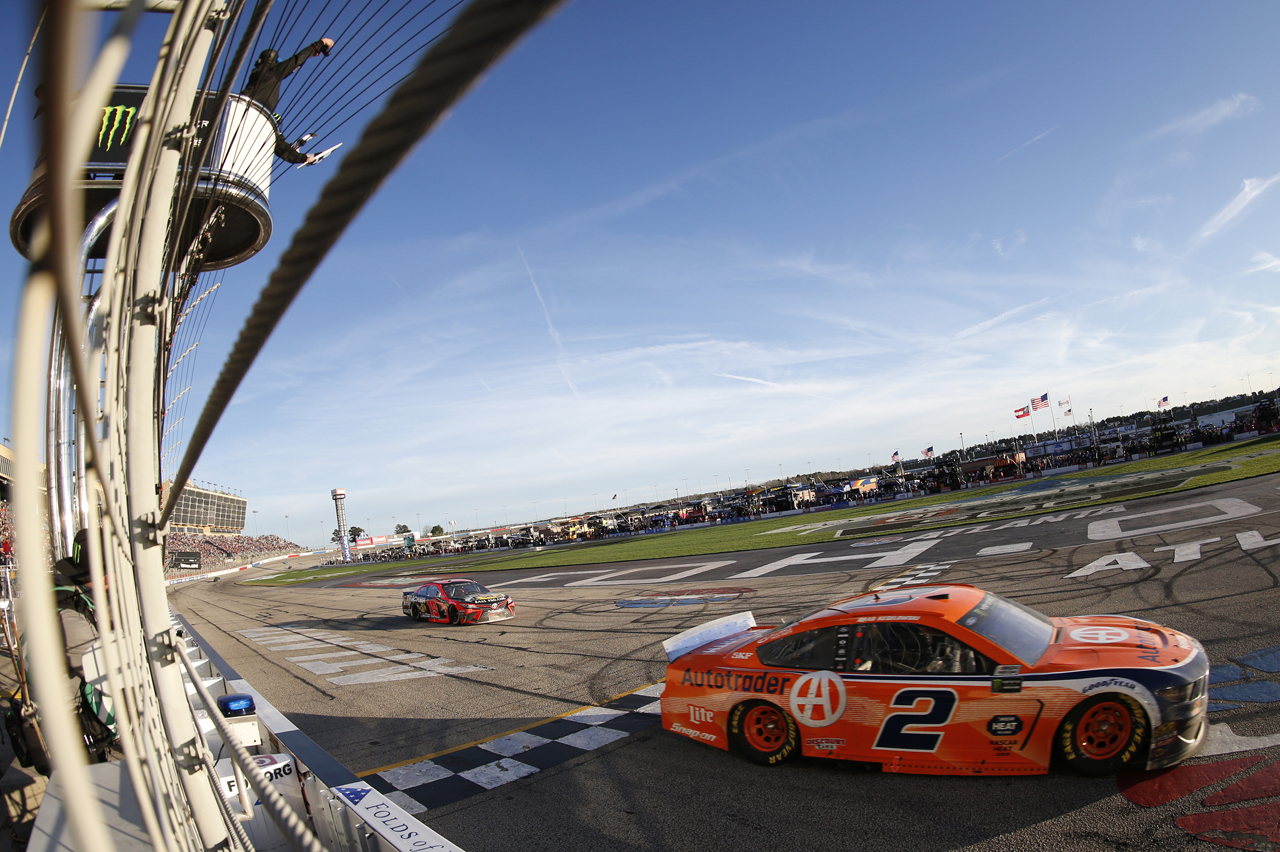 Afterwards, BK was asked about his ability to compartmentalize things like pain and illness to race and win, as he did previously with a broken ankle to win at Pocono, and Brad said it's just part of the job.
"There's always somebody fighting through something. We've seen drivers with torn ACLs, broken fingers and wrists, and things like that. There's always going to be a part of this when you have to play when you're not 100 percent," Brad said. "A race car driver is who I am. It's what I do, and what I love. I'm not going to let anything get in the way of it. Obviously, we had the team to win today. Of course, things still have to go your way, but I don't want to be the reason why they don't. I feel like if you get a little bit of adrenaline in you, you can get over that stuff pretty quickly. It might not be the most fun I've ever had in a race car, but once you get to Victory Lane, you're not going to remember the pain."
The win gave Brad 40 regular season points and five playoff points, and as a result he moved up from 11th to 6th in the Monster Energy NASCAR Cup Series standings.
Next week, NASCAR Goes West to Las Vegas Motor Speedway for the Pennzoil 400 on Sunday. Brad is a three-time race winner at Las Vegas, including the last Cup race at Vegas, the South Point 400 last September. Coverage of Sunday's race begins at 3:30pm ET on FOX.